On August 17th, 2003, Nina and I set out for a day trip to Minnewaska. As most of you know, we live in the SF Bay Area now, so this was a very rare treat for us. The last time we were here was in September of 2001. The rest is history. This time it was the worst blackout in US history. I think we may be bringing bad luck to NY.
We stayed in a hotel in Poughkeepsie the night before. I had heard that on nice summer weekends the park "sells out" early, so I wanted to make sure we got up early and were able to get in. We arrived around 9:30AM and were surprised to learn that there was no fee to enter the park due to the blackouts which occured earlier in the week.
We drove up the Wildmere parking lot, and both kind of cringed at the appearance of a tacky hot dog/mobile home stand in the corner of the lot. We took the GPS and headed out to try and find Witch's (Witches?) Cave. It turned out to be much eaiser and closer than I had thought. We marked the setting anyway in case someone is interested and can't find it. It is at N 41 deg 43.696 W 74 deg 14.345 Elev: 1600'.
We also tried looking for Kenny's Hideout but couldn't quite find it. The directions were: "If entrance to the trail to Witches' Cave is not disguised, stand there with your back to the road and Kenny's Hideout is at 11:00". Well the entrance to the trail WAS disguised and we got all confused about which way our backs should be.
Next we hiked around the lake. There were tons of mushrooms of different varieties. I don't remember ever seeing so many different types in one area before. When we reached the end of the lake, I noticed that the level of the lake was pretty high as there was a considerable amount running off at the end. And the rocks in the water that went out to the old summerhouse were well submerged. We took the Millbrook mountain trail which was a little soggy at first. There must have been lots of rain just before we got to NY. The blueberries were abundant and having never seen a blueberry "in the wild" before, we were giddy with picking and eating them by the handful. Incredibly delicious!
When we got back to the lake trail, I had heard something about the trail to the old Cliff House dock area having been obliterated, so I wanted to find that. But it was actually wide open and being used by MDSA. We didn't see too much evidence of the old dock area. A little concrete here and there. Nina also spotted a downed tree limb with metal insulators posts embedded in it.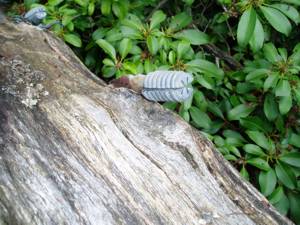 Could this have been a power pole for the dock area? She looked around a little further and found a piece of cracked glass insulator.
Our next mission was to find the Crevices. Now keep in mind we had no maps of the place as I had forgotten to pack them before leaving. All I knew is that they were under and behind the Cliff House and to the north of some powerline. So we took the Beacon Hill trail. But we were clueless and never found it. We did find one of those neat balancing rocks at N41 43.832 W74 13.699.
We took the complete loop trail and came out on the main driveway where we walked up and peered into the old garage. I remember that garage being like a transportation museum. There were many old carriages and cars stored there. We went on to the ranger station to see if they had a topo map or something so we could find the Crevices, but the place was all closed up and deserted. We walked a little past the ranger house and spotted "The Music Box"
http://www.lakeminnewaska.org/photos/albums/stillthere/pianohouse
. Something I never knew even existed! Inside it wasn't too bad. There was an old couch there. I wonder why this bit of history wasn't destroyed?
We headed across the street to the old dump and sawmill area. I couldn't find any trace of the sawmill though. I'm pretty sure I was looking in the right spot. We also went looking through the dump area. I was hell bent on finding some recognizable piece of the hotel, but had no luck. Lots of concrete and old park benches which at first we thought were the old summerhouses. Speaking of summerhouses, we only found one left. There was someone in it, and we were going to come back to it but forgot. It looks like they tried to rebuild it a little, but it was hard to tell at a distance.
Next stop was the stables. But first we wanted to find Karen and Nan's old house. Or remnants of it. That too was not to be. The area where their house was is being used as a dumping ground for yet more picnic benches. Nina and I had deduced that these benches may have come from other parks as there were a lot of them. Too many it seems to have been at Minnewaska.
We peered into the dilapidated stables and it looks like they're using it to store a few odds and ends. We went down below and wanted to poke our heads inside, but just then a ranger came by and told us twice "you're not supposed to be here" in a mono-toned voice.
We stopped by the interpretive "Yurt" which was setup on the old shuffleboard courts in hopes of meeting up with Hattie. I wanted to thank her for keeping us informed of upcoming events and supplying us with pamphlets to use on the site. But she was not there at the time. Instead we found a young guy who was pretty nice and fascinated when we told him how I used to live in the hotel back in the 70's. He had told us that the ranger station was not in use because there was no power at Minnewaska. Apparently there was a big ice storm up there last winter that knocked out power and they never got around to restoring power. We also mentioned to this guy that we noticed an incredible amount of garbage around the trails. He told us that these items were picked up by volunteer groups. Nina and I were both frustrated by that explaination because we were constantly having to stop hiking and stand by the side of the road as these two park employees in a pickup truck would drive past us every 10 minutes. What were they doing? Is this how New York's tax dollars are being spent? They should be on foot with garbage bags if you ask me. Instead it seems they spend their time "joyriding" going in circles around the trails (we saw them several times circling the same trail doing nothing). Urgh!
All in all the trip was bittersweet for me. I lived here! I had worked in the water tower, I was on the roof of the hotel painting, in the basement fixing the "mangler". Now everything I worked on there is gone. I have no choice but to get over it. It just all seems like such a waste to me. I see Mohonk getting $50 for lunch and $350 a night for a room. We have a hotel here in Berkeley called the Claremont Hotel & Spa (
http://www.claremontresort.com/
) which looks just like Minnewaska. But its got little of the scenic beauty as it is plopped down in a city. Business is great for this place too. The cheapest room you can get is $270 a night in the rainy season. I just can't help believing that if Minnewaska had hung on, it would have made it. There is a different mentality now. At least on the left coast that these kinds of places are unique and enjoyable and need to be preserved.